Arlington Green Homes, LLC is a custom home builder that specializes in new homes and renovations in Arlington, Virginia and the surrounding areas. Larry Smith, company founder, has over 20 years experience renovating and building in Northern Virginia. Every new home location is carefully selected in a quality neighborhood that is usually walking distance to Metrorail, shopping and restaurants.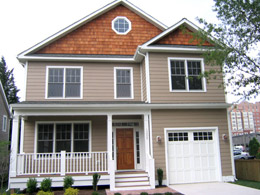 Because we only build a few houses a year, we have high quality, well designed homes that complement the lot and neighborhood in which they are located. Our homes are very luxurious, yet also very practical in design. Since many of the buildable lots in Arlington tend to be relatively small compared to the farther out suburbs, it is very important to get the most out of every square foot.
In our homes, open floor plans allow for natural light to shine through to every room. High quality materials, fixtures and craftsmanship allow for classic styles to be combined with all the conveniences of modern technology. Gourmet kitchens have all the latest appliances and open up to large family rooms. Beautiful master bedroom suites have large walk-in closets, inviting Jacuzzi tubs and custom designed two person showers with benches and multiple shower heads.
On the outside, quality materials such as pre-finished Hardie Plank, synthetic exterior trim, and Windsor Legend windows are virtually maintenance free and never need painting. Using superior materials and very efficient insulation techniques creates homes that are usually 33% more efficient than Federal and State requirements. Please tour our website to see all of the features or our homes.
Please take a moment to read these great articles in the Arlington Sun Gazette about our properties.
--> Click here to download the pdf file.
FOR MORE INFORMATION CALL 703-201-4400 OR SEND AN EMAIL TO LRSML@AOL.COM.